Top-10 movies: Jennifer Lawrence
Ranking the 10 best movies of Jennifer Lawrence's loaded filmography that is unfortunately trending in the wrong direction after a blistering start to her career.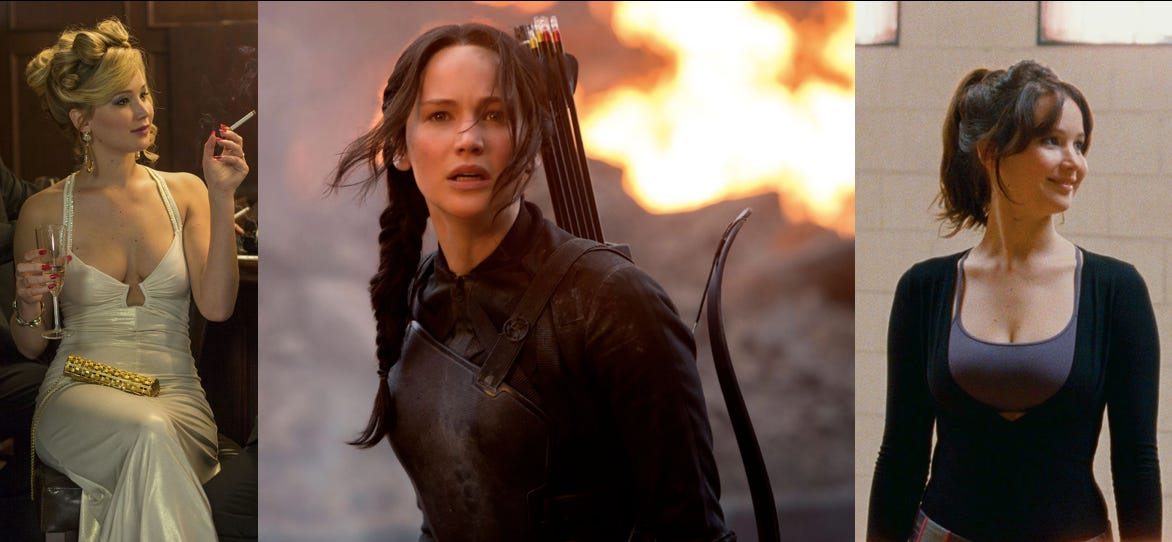 To avoid a career arc that is beginning to mimic the trajectory of the once great, now neither good nor great Felix Hernandez, Jennifer Lawrence desperately needs a win — the kind of win that will allow her to reclaim the throne as the top female movie star on the planet.
It's been six or seven years — depending on how you feel about the X-Men franchise — since her last objectively great entry to a loaded filmography. Back in 2013, her second collaboration with David O. Russell, American Hustle, was released to rave reviews, a boatload of Oscar nominations — including a Best Supporting Actress nom for Lawrence — and an enthusiastic response from moviegoers. The following year, the second X-Men film with Lawrence as Mystique (the one covered in blue paint) received a 90 on Rotten Tomatoes, capping J-Law's incredible run from 2010-14 that included three Oscar noms, one Oscar win for her performance in Silver Linings Playbook, the beginning of The Hunger Games saga (the ninth-highest grossing franchise on a per movie basis), and the birth of my favorite GIF in existence.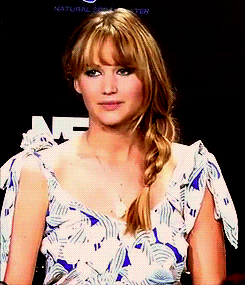 With good reason, she became the world's highest-paid actress from 2015-16.
But the past six years have been rocky. It's been a long time since a J-Law movie has been undeniably great like so many of her films during her peak. There's an argument to be made that the final two Hunger Games installments were good — I'd buy it — but the critic and audience consensus says that they were significantly worse than their two predecessors. Joy, which netted Lawrence's fourth Oscar nomination at the age of 25 (a record, by the way), certainly isn't bad, but it failed to hit the heights that her two previous collaborations with David O. Russell reached. Red Sparrow is fine enough as a thriller that you can pickup and drop at any point when it's on TV, but compared to the book that it adapted, it's a blunder.
Since that remarkable run from 2010-14 — beginning with her breakthrough in Winter's Bone and ending with X-Men: Days of Future Past — Lawrence has made nine movies. The average Rotten Tomatoes score of those nine films? 47.8. The highest-graded movie of the bunch? Mockingjay Part 2, with a 70. The average Rotten Tomatoes score of her six movies since The Hunger Games saga concluded? 45.8. The highest-graded movie of the bunch? mother!, with a 69.
The point being, J-Law — by the standards established during her peak — is slumping. It's not entirely her fault. She's always great regardless of the movie's quality. If she can be faulted for anything, it's her selection. But as someone who considers J-Law one of my favorite actresses — if not my favorite — the past six years have been disappointing and just a tad worrying.
*beginning with Winter's Bone in 2010 and ending with Dark Phoenix in 2019
Hope, though, is on the horizon. She's currently attached to three promising films — two with Adam McKay, one of which will see her play Elizabeth Holmes, the second of which she'll star opposite Cate Blanchett, and a crime movie called Mob Girl that I'm into.
Hope lies beyond her upcoming projects. Above all else, it's important to remember just how dominant J-Law was at her peak and to keep in perspective that even at her lowest, she's still putting together a stretch that includes a film like mother! that at the very least, didn't lack ambition; she swung for the fences despite having to know full well that the movie could be a colossal failure (the movie was neither great nor bad, but J-Law was awesome in it). During her peak, she shouldered the weight of a science-fiction franchise between starring in Oscar-worthy movies like Silver Linings Playbook and American Hustle.
Earlier, I compared her to Felix Hernandez, one of the greatest pitchers in baseball from 2009-14, who has since fallen off a cliff and is now resigned to fighting to merely secure a job in professional baseball. That comparison was probably too harsh. Whereas hope for a Hernandez rebound remains slim at best, hope for a J-Law rebound remains high. Hernandez isn't struggling because of his supporting cast. He's struggling because he's no longer good. J-Law is still great. If anything, it's her decisions to star in mediocre projects that can be criticized. Any movie star who works in Hollywood long enough is bound to hit a rough patch. This is J-Law's rough patch.
As a reminder of how great her career has been since she arrived with Winter's Bone in 2010 (and because I'm mid-move and thus, haven't had time to watch many movies), I decided to rank my 10 favorite Jennifer Lawrence movies — by both the quality of the film and the quality of her performance.
In that sense, movies where she plays a smaller role as part of an ensemble cast were not given as much weight as movies that she carries. As one final disclaimer, as everyone who knows me in real life and/or the internet already knows, I am not a superhero movie fan. There are some notable exceptions — like Birds of Prey, The Dark Knight Trilogy, Black Panther, Captain Marvel, and the first half of Wonder Woman — but for the most part, I tend to avoid superhero movies like mask-less people at the grocery store. All of this is just a long-winded way of saying I did not rank any of the X-Men movies, even though I did see First Class (when I was visiting my good friend Sam at Santa Clara and her roommate made me watch it with her while Sam was in class) and actually liked it (thanks for making me watch it, Niva). I also didn't rank Red Sparrow, even though as someone who loved the books, I'm more forgiving of its flaws than others.
Onto the 10.
10. mother!
Three years later, I'm still not sure if mother! is a good film. Writer/director Darren Aronofsky definitely tried very hard to make a good film. The end product was a movie that felt like it was trying too hard to be good. It fails to reach the heights of Black Swan, Aronofsky's masterpiece. But like Natalie Portman's performance in Black Swan, which won her an Academy Award, Lawrence's performance in mother! is beyond reproach — to the point where it elevates the movie from a potentially pretentious mess to worth watching. It's LeBron scoring 25 straight points to vault the Cavaliers past the Pistons in Game 5 of the Eastern Conference Finals.
As the aforementioned mother, Lawrence is captivating, mesmerizing, and dizzying. The final act of the film is pure and utter chaos. I remember leaving The New Parkway theater at a loss for words. I wasn't sure if I liked the film. I don't think I ever want to watch it again. It's definitely the least rewatchable of the 10 movies on this list. But I also remember thinking that it was worth 121 minutes of my time and that J-Law was incredible in it. At the very least, it evoked an emotional response in me. I'm glad I saw it.
In his review for RogerEbert.com, Brian Tallerico put it best when he described the film as "at times horrifying, at times riveting, at times baffling, and at times like nothing you've ever seen before. … It's that kind of film—a movie that feels like it was purposefully made to be divisive, and completely unapologetic and unrestrained in terms of its creator's vision."
Oddly enough, Tallerico also criticized J-Law's performance, writing, "The tight look of the film puts a lot of weight on Lawrence's shoulders, and I'm not quite sure she can handle it. … Lawrence doesn't quite nail every beat."
I couldn't disagree more. Without her performance, this movie would've been a waste of time. J-Law elevates this movie. She's the reason it's worth spending 121 minutes of your time watching it.
9. The Hunger Games: Mockingjay Part 1
With a 69 percent on Rotten Tomatoes, Mockingjay Part I is the worst-received Hunger Games entry. It's easy to understand why. The Hunger Games books are a trilogy. The filmmakers decided to split the final book into two movies, released a year apart from each other. As such, the third film, at worst, feels like filler. At best, it feels like a prologue. In terms of plot, not much really happens.
I like it, though.
I like it because, even though I've never read the books, I love the world in which The Hunger Games are set. I want to spend as much time there as possible with Katniss. When I saw Part I for the first time, I was annoyed because it didn't offer a resolution. If The Lord of the Rings could wrap up its rich and deep trilogy with one movie, why couldn't The Hunger Games wrap up its story in one movie? But once Part 2 came out the following year, I was happy Part I existed as its own separate entity. I'm glad that the filler movie exists because it serves as the perfect prologue to Part 2.
After spending the two films mostly enamored with the actual Hunger Games, I loved seeing a close examination of the rebellion. At the time of its arrival, it might've seemed tedious. But by the time the fourth and final film arrived, the third installment added more depth to a complete and fulfilling story. It's clearly the worst film of the saga. But I'm glad it exists.
Besides, the final act — a futuristic spin on Zero Dark Thirty — is a masterclass in building and sustaining tension until it leaves the audience with a cliffhanger. Again, at the time of its release, it was frustrating. But now, with the ability to watch the Part 2 immediately after Part I, I think it's a worthwhile (but flawed) entry to the saga.
I ranked it above mother! for the simple reason that I never want to watch mother! again while I've already seen Part 1 at least three times.
8. Joy
Oh, the mop movie.
On Thursday night, we fired up Joy because it's the only J-Law film that I knew would be in contention for this list that I hadn't yet seen. In years past, I'd heard mixed things. I'd heard that J-Law was great in the movie, but the movie itself was disappointing. I mostly, but don't entirely agree.
Like mother!, without J-Law's performance, the movie would be forgettable. Once again, she elevates the movie. The thing is, I think Joy is far better than its reputation. No, it's not nearly as good as her two prior collaborations with David O. Russell, but it still manages to present a compelling true story about a transformation that a young woman, trapped in the rut of an unfulfilling and grueling life, undergoes.
I was admittedly worried during the opening 20 or so minutes. I thought it was a mess. Watching it felt like a chore. But the film hits it stride shortly thereafter. When Bradley Cooper's character enters the fray, the movie shifts into a higher gear. Even while portraying a non-romantic relationship, Lawrence and Cooper's chemistry together is undeniably electric.
There's two sequences in the film that'll stick with me — they'll be the reasons why I revisit the film in the years to come. The first is when Joy successfully sells her broom on TV. It made me appreciate just how talented Russell is at directing chaotic celebratory sequences — as is also the case in American Hustle and Silver Linings Playbook. The second is when Joy salvages her business by strong-arming a conman. In both moments, Lawrence is electrifying.
I appreciated that the film closely examined only one of Joy's inventions. While some can rightfully complain that the film is a bit of a narrative mess, it's not difficult to envision how this film would've gone completely astray in the wrong hands if the filmmaker had tried to jam all of her life's work into one two-hour movie.
Above all else, this is the best movie about a mop that I've ever seen.
7. Like Crazy
If Lawrence played a bigger role in this movie, it would be ranked in the top half of the list. But because Lawrence plays a side character in a move that is hyper-focused on the relationship between the characters portrayed by the great Felicity Jones and the late Anton Yelchin, Like Crazy fell to the bottom half.
The movie, as a careful examination of how distance and time can affect a relationship, is nearly perfect for what it is trying to be. But as the side love interest of Yelchin's character, Lawrence is limited in what she's allowed to do. That said, she's tremendous in playing the source of temptation in Yelchin's life that gets him thinking about completely abandoning his relationship with Jones' character. Lawrence doesn't get nearly as much room to operate as Jones, but she uses it efficiently. It just takes one glance at her to understand why Yelchin's character feels conflicted. It's difficult to take your eyes off her whenever she's onscreen.
Inevitably, when things don't work out between Yelchin and Lawrence's characters, you feel bad for her. She gave it her everything. It just wasn't ever her story.
6. The Hunger Games: Mockingjay Part 2
The great conclusion that a great saga deserved. Throughout the entire story, Lawrence carries the story on her shoulders. During the first three films, she's strong, unrelenting, a true force of nature as the heroine. But it's in the final moments of Part 2 that she finally allows herself to become truly vulnerable. It's the kind of acting that separates her from most other actors in most other coming-of-age sagas.
The truth is, The Hunger Games never did the revolution part as well as it did the actual games part. But with the first three films to fall back on, the final installment is as rewarding as a finale as one could've reasonably hoped for. It's packed with sorrow, grief, and hope — things that resonate more and more with each passing year.
If Part 1 and Part 2 had been combined into one movie, Mockingjay would claim a spot on the top half of this list. As two separate entities, they're worse off, but the good news is that five years after Part 2's arrival, it's not at all difficult to watch the two back-to-back — assuming you're unemployed like me and have 260 minutes to spare on a weekday.
5.

 

American Hustle
It's not just mops that Lawrence is great at acting alongside. It's also microwaves.
I mean, science ovens.
Upon its release, American Hustle was celebrated as a fun, entertaining mess of a movie with a tremendous cast including Christian Bale, Amy Adams, Bradley Cooper, Jeremy Renner, Robert De Niro, and of course, Lawrence. It was only once the film got nominated for Best Picture that the backlash began.
There's no doubt that American Hustle didn't deserve to win Best Picture over films like Her and The Wolf of Wall Street — not to mention, the eventual winner, 12 Years a Slave. That's why the backlash feels so undeserved. It wasn't anointed the best movie of the year. It was one of the best movies of the year.
Is it a perfect movie? No. It's a mess. But, anchored by so many tremendous performances from the ensemble cast, it holds up seven years later. Lawrence might not be the star. Bale and Adams drive the story. But she steals every scene she's in as the ditzy, flirty hot-mess that threatens to derail the operation Bale and Adams have cooked up.
I don't know if there's a single "good" character in American Hustle, and Lawrence's character is the one who gets to best encapsulate that defining characteristic of the film.
"Maybe you're gross inside. What? Robbing people and all that shit that you do? Maybe we're both gross inside," she tells Adams' character. "That's what Irving loves about us. At least he's consistent. You know, sometimes in life, all you have are fucked up, poisonous choices."
That's what American Hustle is about. Fucked up, poisonous choices. Watching the remarkably talented ensemble cast navigate those choices is where the drama in American Hustle lies. It's just a whole lot of fun hanging out with so many movie stars being movie stars — Lawrence, of course, being one of them.
4. The Hunger Games
The movie that turned J-Law into the biggest female movie star on the planet. Prior to the release of The Hunger Games in 2012, she'd already established herself as a supremely talented actress, earning an Oscar nomination for Winter's Bone. But what The Hunger Games did for Lawrence is demonstrate that she could carry a blockbuster franchise entirely on her back.
From the get go, it was clear that she was operating at a level above so many of her co-stars — both of her love interests failed to hold their own against her. It was in the first Hunger Games that Lawrence proved her ability to be an action star while delivering on the emotional moments that don't typically demand top-tier acting, but are elevated when the action star in question can hit those moments out of the park.
The Hunger Games is to Jennifer Lawrence what The Bourne Identity is to Matt Damon — and vice versa. Jennifer Lawrence is to The Hunger Games what Matt Damon is to The Bourne Identity.
3. The Hunger Games: Catching Fire
The first time I saw Catching Fire, I was in college, sitting in the front row in a downtown Berkeley movie theater, and drunk. At one point in the movie, my friend left to go puke in the bathroom. I didn't remember much about the movie from that first viewing. Except the final shot. Despite being that drunk — it was college, we'd been playing 2K14, and had drank way too much of a certain sugary alcohol beverage that I loved way too much in my drunken college stupor — the ending stuck with me. Sure, I had to see the movie a second time to actually understand what the hell happened, but that ending was so good that I remembered it. It elevated a movie that was roughly on equal footing with its predecessor and turned it into The Hunger Games' version of The Empire Strikes Back. Before the ending, Catching Fire felt almost a bit too similar to the first film. The ending, though, re-contextualized everything that came before. In that sense, it's one of those movies that improves with a rewatch.
As she is in all four installments, Lawrence delivers a strong performance as Katniss. But the movie is elevated by Philip Seymour Hoffman, who works exceptionally well opposite Donald Sutherland and adds an extra spark to an already great movie.
2. Silver Linings Playbook
On the surface, Silver Linings Playbook has the look of a typical rom-com. Bradley Cooper's character, recently separated from his wife, is obsessed with winning her back when he meets Lawrence's character, who is grieving the loss of her husband. She offers to help him win her back in exchange for his participation in a dance competition. Along the way, they fall in love. In the backdrop, you've got Robert De Niro playing Cooper's father, who is obsessed with the Eagles and gambling.
As a rom-com, it succeeds. Despite the awkward age gap, Cooper and Lawrence's chemistry is magnetic. And the film is genuinely funny when it tries to be.
But what elevates Silver Linings Playbook above normal rom-coms is its careful examination of grief (through Lawrence) and mental illness (through Cooper). It succeeds in saying more than a traditional rom-com. Russell was, in part, attracted to the movie because his son has battled bi-polarity and OCD. Russell's commitment to realistically portraying mental illness shows in the film's genuineness.
Elevating the film are the performances from both Cooper and Lawrence, the latter of whom won an Academy Award for her performance as Tiffany. She's vulnerable, strong, and alluring. Russell nearly made Silver Linings Playbook with Vince Vaughn and Zooey Deschanel before Cooper and Lawrence became attached to the project. With all due respect to both Vaughn and Deschanel, it's impossible to imagine this movie without Cooper and Lawrence.
Sealing the film is a final act that doesn't disappoint. So much of the movie is spent building up to the dance performance that during my first viewing I was ready to be disappointed considering both Cooper and Lawrence are actors, not dancers. Instead, Russell leans into Cooper and Lawrence's inadequacies as dancers. He weaponizes it.
That final sequence is Russell at his best as he documents the chaotic celebration as the rest of the ballroom looks on in amusement at the family celebrating a clumsy performance and a mediocre score. Russell thrives in these moments.
I'll admit that the ending to the film used to bother me. It seemed too cheesy — almost like the studio forced Russell to tack on a cliche rom-com ending. And then, on my most recent rewatch, it occurred to me that Russell intended for the ending to be as corny as it was. It all harkens back to something Cooper's character says in the early going, when he wakes up his parents in the middle of the night to complain about the ending to Ernest Hemingway's A Farewell to Arms.
"The whole time you're rooting for this Hemingway guy to survive the war and to be with the woman that he loves, Catherine Barkley," he says. "And he does. He does. He survives the war, after getting blown up, he survives it. And he escapes to Switzerland with Catherine. But now Catherine's pregnant. Isn't that wonderful? She's pregnant. And they escape up into the mountains and they're going to be happy, and they're going to be drinking wine and they dance, they both like to dance with each other. There's scenes of them dancing, which was boring, but I liked it, because they were happy. You think he ends it there? No! He writes another ending. She dies, Dad! I mean, the world's hard enough as it is, guys. It's fucking hard enough as it is. Can't somebody say, "Hey, let's be positive? Let's have a good ending to the story?"
That's why Russell ended Silver Linings Playbook the way he did. And that's why the cheesy ending works.
1. Winter's Bone
Something I appreciate about Lawrence is her ability to go both big and small, rotating between them expertly. Before she became known as the girl from The Hunger Games, she arrived as the Oscar-nominated lead in this quiet, understated, slow-burn indie that was made for a measly $2 million. I've said repeatedly that Lawrence carries The Hunger Games. I imagine they casted her as Katniss knowing full well she could carry the franchise because of her work in Winter's Bone. As the 17-year-old daughter of a mentally ill mother and an absent meth cook father who is tasked with putting her life on hold to care for her mother and two younger siblings, Lawrence doesn't so much carry Winter's Bone as she catapults it into another stratosphere. It's one of the best indies of all time with one of the best performances in an indie ever.
This was the movie that certified her potential to be the best actress on the planet. At the time, we had no way of knowing she would cash in on that potential the way she did at her peak. What came next proved she wasn't a one-hit wonder.
Winter's Bone was the beginning of Lawrence's rise. A decade later, it still resonates.
It also just might be a beacon for her as she navigates choppy seas for the first time in her career, really. After proving her viability as the star of a blockbuster franchise and then experimenting with riskier choices over the past few years, it might be time for Lawrence to get back to basics by playing a more normal human being going through more normal human being shit — something more grounded than an unnamed wife in a metaphorical, trippy, psychological arthouse flick or a ballerina turned Russian spy in an underwhelming thriller.
Ten years later, Winter's Bone can light the way forward for Lawrence.