Top-five movies: Oakland
Making the case for Oakland movies to become its own distinct genre, like Boston movies, by highlighting five movies shaped and defined by The Town.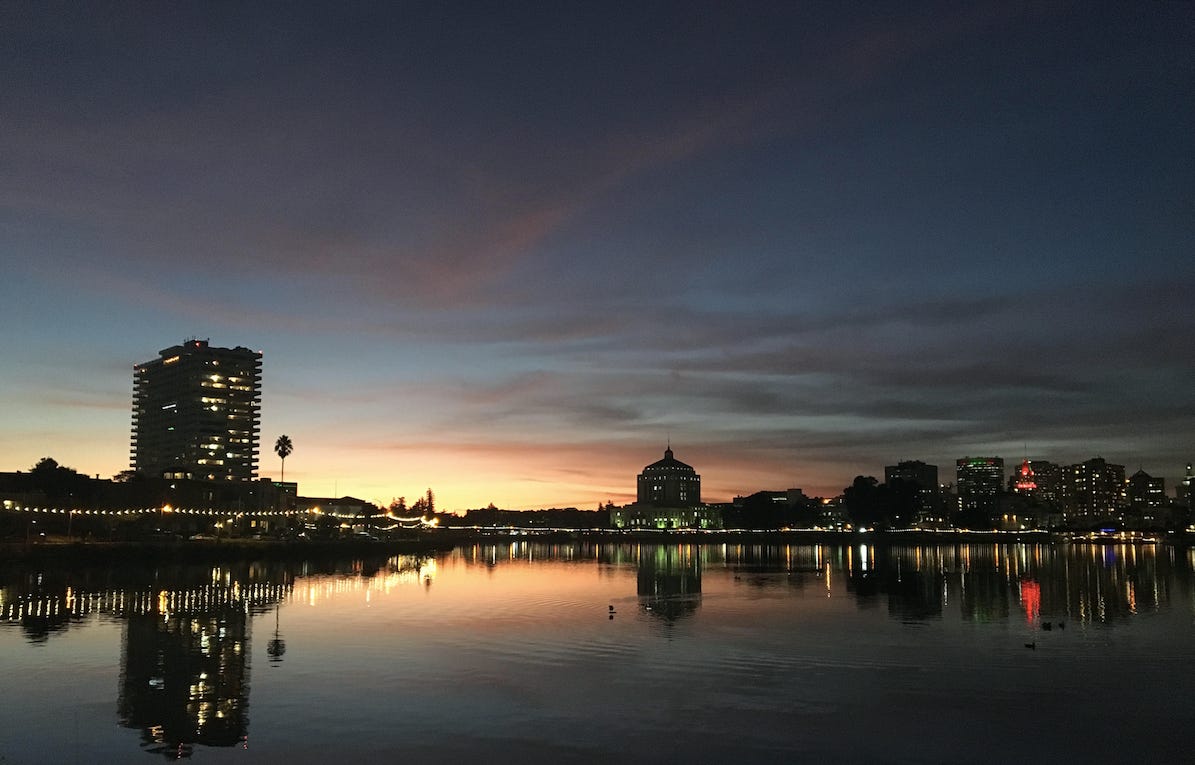 On Friday night, I drove from Oakland to Las Vegas.
Over the past four years, I've done this drive eight times — 15 times if you count the return journeys home. I lived in the East Bay for nine years. In 2016, my parents traded in the rain for the desert, moving from Seattle to Las Vegas. As an anxious flyer, I've always preferred to drive to their house for the holidays so that I can operate on my own timeline (and listen to Brand New, loudly, without headphones) without worrying about inconvenient delays, leg space or, you know, plummeting 31,000 feet to my death. It's an easy drive — roughly nine hours depending on traffic and the number of necessary bathroom and coffee breaks. By now, it's routine.
But Friday night's drive, which veered into early Saturday morning, was different. This time, there won't be a return journey home back to Oakland.
On Friday night, I moved away from Oakland — for at least three years, probably for far longer if I'm being realistic. Today, I'm sitting in my parents' Las Vegas house writing this newsletter as Kona, their new-ish German Shepherd, keeps a watchful eye on me. Later this week, I'll drive another 11 or 12 hours to Boulder, my new home, where I'll be spending the next three years learning how to be the next version of Lt. Daniel Kaffee — minus the whole military thing and being as remotely successful or into scientology as Tom Cruise, but I digress.
Nearly 28 years into my life, there have been only a few drives that I'll remember for the rest of my life. One was driving away from my childhood home for the final time, knowing that someone else would soon be living and growing up in my childhood bedroom. I can still see the house through my rearview mirror. Friday was another one of those drives.
In 2011, I moved down to the East Bay as an 18-year-old kid who grew up in a sheltered suburb of Seattle where the only places to hangout were the mall, movie theater, which was attached to the mall, and Red Robin, which was across the street from the mall. I'll admit that I didn't immediately love Berkeley. I briefly entertained the idea of transferring from Cal to UW during my first semester as I struggled to adjust. I never did move away, obviously. Post graduation, I had two chances to take jobs on the East Coast. I declined both of them. Wanting to stay in the East Bay was a big reason why. I remained in Berkeley another year after I graduated from Cal, spent the next two years living in downtown Oakland, and another two years on the eastside of Lake Merritt. All added up, it's been almost exactly nine years since I was alone in my Berkeley dorm room, trying to figure out what the hell I was supposed to do next. If I hadn't gotten into Colorado Law, I almost definitely wouldn't have moved away from Oakland. It's given me very few reasons to leave.
It's not Oakland. It's me.
Over time, Oakland grew on me. BBQs at Lake Merritt — the first-ever designated wildlife refuge in the United States and the home to hundreds of species you'd never think would call a lake like Lake Merritt home, including bat rays and leopard sharks, by the way. Palomas and shuffleboard at Kingfish. Pool at George & Walt's. Walking along the Lake's lighted path to Grand Lake Theater. Bottomless coffee and English muffins at Sweet Bar. Greyhound slushies at Beer Garden. Chicken chile verde at Los Cantaros. Kimbap from Koreana. Carnitas fries at Tacos Mi Rancho. Carne asada fries at Burrito Express. Potholes deep enough to fit a basketball. Weather 5-10 degrees warmer than San Francisco. Those creepy A's elephant statues that popped up all over town a couple years back. The value deck at the Coliseum. The roar from Oracle after a Steph pull-up 3 in transition. Carnitas tacos at Tacos Mi Rancho.
After nine years in the East Bay, more than four of which were spent in Oakland, I can report that Oakland remains vastly underappreciated. Maybe that's why I came to love it so much. From my taste in music to movies to athletes, I tend to gravitate toward the underappreciated. Some would call it questionable taste and they wouldn't be entirely wrong. After all, I still think Jay Cutler was actually good at playing quarterback in the NFL.
Oakland movies are also underappreciated. Which is why, ever since I decided a few months ago to eventually leave Oakland for Boulder, I knew that my first post-move newsletter would be about Oakland. Today, I'm ranking my five favorite Oakland movies. I promise I'll take a break from ranking things at a certain point. It's just that I'm mid-move and after five-plus years of blogging about sports, ranking things is second nature.
Much like Boston movies, Oakland movies should become its own genre. Oakland's diversity — in more ways than one — makes it a compelling setting that affords storytellers a chance to connect with wide-ranging audiences while telling the kinds of stories that deserve to be told in 2020 and beyond. The five movies I've selected below, all of which were released in the past decade, highlight Oakland's diversity. They all tackle issues plaguing — but aren't entirely specific to — Oakland. They do it in different ways, through superheroes and villains that can be traced back to Oakland, real authentic citizens who wouldn't fathom ever leaving Oakland for Colorado, and a poor — relatively speaking, of course — sports franchise.
To be clear, the five movies I've selected below are worth watching even if you don't have an emotional attachment to Oakland. They're good movies independent from what they're trying to say about Oakland. But if you have spent any meaningful time in Oakland, these movies will hold additional resonance.
We begin not in Oakland, but in Wakanda.
5. Black Panther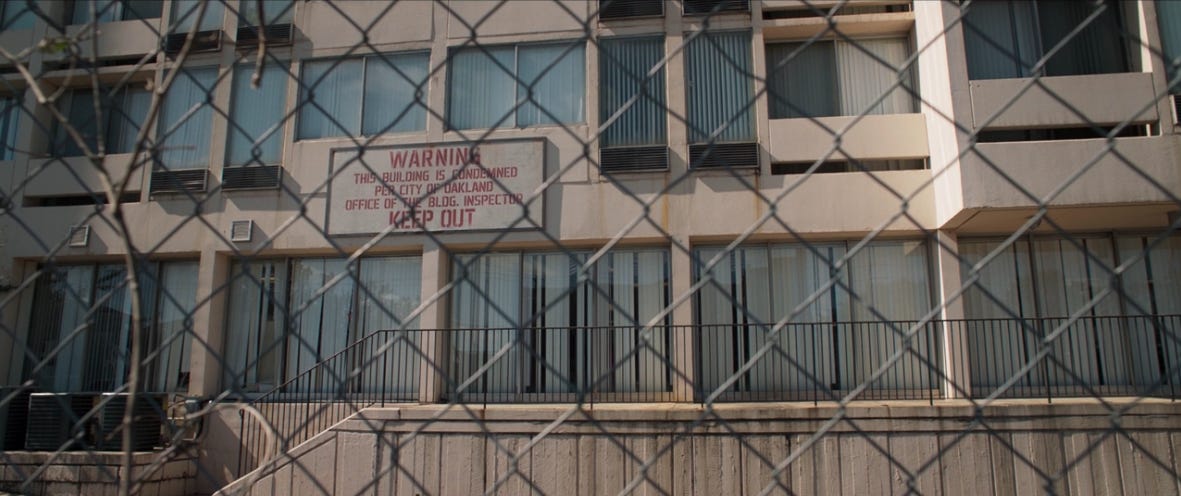 The vast majority of Black Panther (available for streaming on Disney+), Marvel's 18th film released in the first quarter of 2018, isn't set in Oakland. At no point did they film in Oakland. But Black Panther is still very much shaped by Oakland.
The film is bookended by Oakland sequences (shot in Atlanta). In the opening sequence, a younger version of the film's villain, Killmonger (Michael B. Jordan), plays pickup basketball on an Oakland court with a makeshift hoop. In the final sequence, the film's hero, T'Challa, opens an outreach center at that same basketball court (now with an actual rim). Those two sequences help ground an otherwise fantastical story that mostly takes place in a fictional African nation called Wakanda.
Writer/director Ryan Coogler grew up in and around Oakland — hence its inclusion and influence. There's a reason the film ends in Oakland despite spending only one other scene there throughout its 134-minute runtime.
"I think that more than anything, growing up in the Bay Area gave me perspective on how a location influences the individual," Coogler said.
As everyone reading this already knows, I don't normally like superhero movies. The year before Black Panther's release, the buzz for Wonder Woman grew so palpable that I decided to give it a shot. After Wonder Woman's stellar opening half, the final hour — when it turned into a typical superhero movie that ended with a supposedly epic battle between hero and villain that in reality lacked real stakes since everyone knew throughout the battle that the hero couldn't possibly fail — disappointed me. I thought I was done with superhero movies.
And then Black Panther came along. I was actually in South Bend — very much not Oakland — visiting my sister when I saw it a week or so after its release. We were looking for something to do. So we gave Black Panther a chance. I liked it — so much so that it actually convinced me to give more superhero movies a chance. I'd go on to mostly enjoy Captain Marvel and unconditionally love Birds of Prey (and the Fantabulous Emancipation of One Harley Quinn), my favorite movie of 2020 so far.
Black Panther still suffers from the same problems that plague Wonder Woman and other superhero movies I don't care for. The end battle is elongated, chaotic, and relatively stakes free. In the end, the hero always wins.
I think Killmonger was the difference. Here was a compelling villain who I could understand, even if I still thought he was in the wrong. How he became a villain was understandable. So were his motives. I didn't want him to win, of course, but I understood why he felt the way that he did and why he was doing what he did. He was misguided, sure, but he had a reason to be aggrieved. His ending was both tragic and fitting. In the words of Killmonger, it was "beautiful."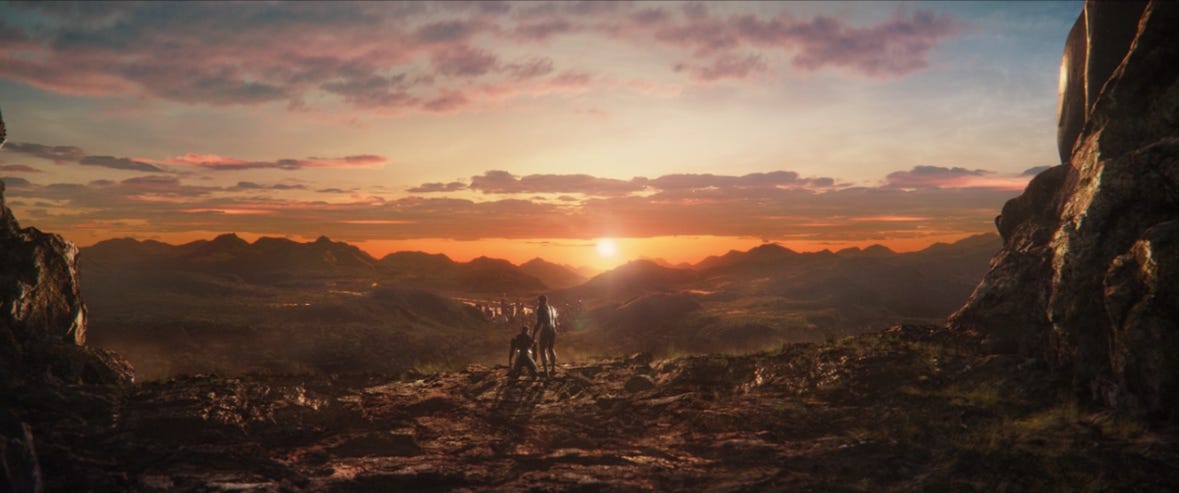 Black Panther represents the best side of the MCU: a fantastical epic story grounded with real identifiably human characters grappling with issues affecting our own real world. Above all else, Black Panther made me reconsider the superhero genre.
That's gotta be worth something.
4. Sorry to Bother You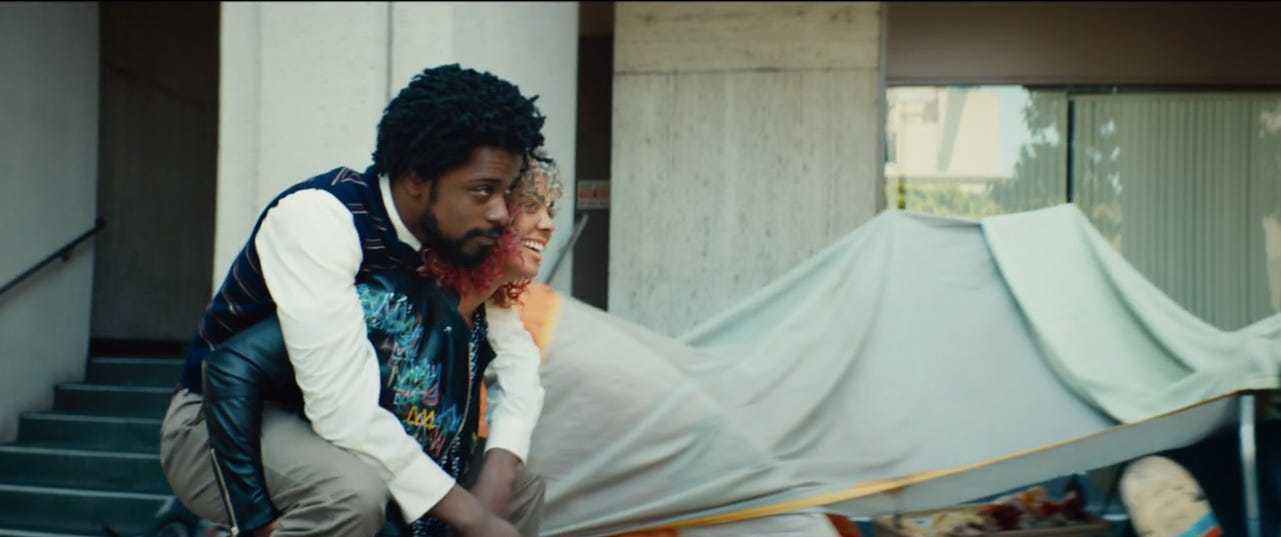 Unlike Black Panther, Sorry to Bother You (available for streaming on Hulu) is entirely set and filmed in Oakland.
When I lived in downtown Oakland, Sorry to Bother You was filming within blocks of our apartment. My favorite Oakland Thai restaurant is a block away from the dive bar that the characters frequent. Everyone who's been to Oakland knows where exactly Cash's fancy apartment is located downtown.
Sorry to Bother You is fantastical like Black Panther — without getting into spoilers, there's a human-horse hybrid species called equisapiens — but it's entirely grounded and rooted in present-day Oakland, not a make-believe country 40 years from now.
"My beef with a lot of sci-fi is that going so far in the future, or going into space, or going into another dimension makes it so safe that nobody cares what you're saying," writer/director Boots Riley told KQED. "You can make something that's threatening revolution, but if it's happening in space or it's happening in the Chicago of 200 years from now, no one will really care. No one will find it threatening."
Oakland also shapes the story. Cash lives with his girlfriend in his uncle's garage. He's late on rent, which his uncle needs to pay off his house. He drives a piece of shit car with manual wipers and the VIN scribbled on the windshield. Detroit (Tessa Thompson), Cash's girlfriend, wears earrings that say "tell Homeland Security we are the bomb" and a shirt that reads "the future is female ejaculation." Tents line the sidewalk. Cash gets a job as a telemarketer, where he learns to use a "white voice" to increase his sales. He abandons a protest for higher wages and actual benefits when he scores a promotion. Suddenly, the cause is no longer his. He turns his back on the group. He eventually swaps in his piece of shit car for a Tesla-looking vehicle. He starts using his "white voice" after hours. He loses his identity.
Oakland aside, the movie is equal parts funny and horrifying. Even though it was marketed by Riley as "an absurdist dark comedy with magical realism and science fiction inspired by the world of telemarketing," I never saw the ending coming. It shocked me. At first, I didn't like it. The more I think about it, the more I do.
"I think that it is a happy ending, but it's a different kind of happy ending," Riley told Thrillist. "It's one that says nobody gets out of this clean and there's no way we can't be affected by this world. But the point is you keep fighting. And that's the happy ending."
You don't need to have lived in Oakland to identify or sympathize with the issues presented in Sorry to Bother You. I lived in Oakland for over four years, but even still, I can't really personally identify with the issues examined in the film. I'm definitely not qualified to tackle them. That's probably what I liked most about the film. It expertly portrayed the complexities of the issues it addressed. Through Cash's journey, it made me consider angles of the issues that I never deeply thought about before. It made me think about things I wouldn't normally think about.
As Janelle Hessig wrote for KQED, "Degrading jobs, homelessness, corporate greed, and police brutality are viewed through a cartoon lens that's equal parts hilarious and horrifying. It's a balancing act that could easily take a wrong turn in the hands of an outsider with a two-dimensional view of Oakland, but in Riley's hands, there's a lot of truth in the bright and absurd universe that he's constructed."
3. Blindspotting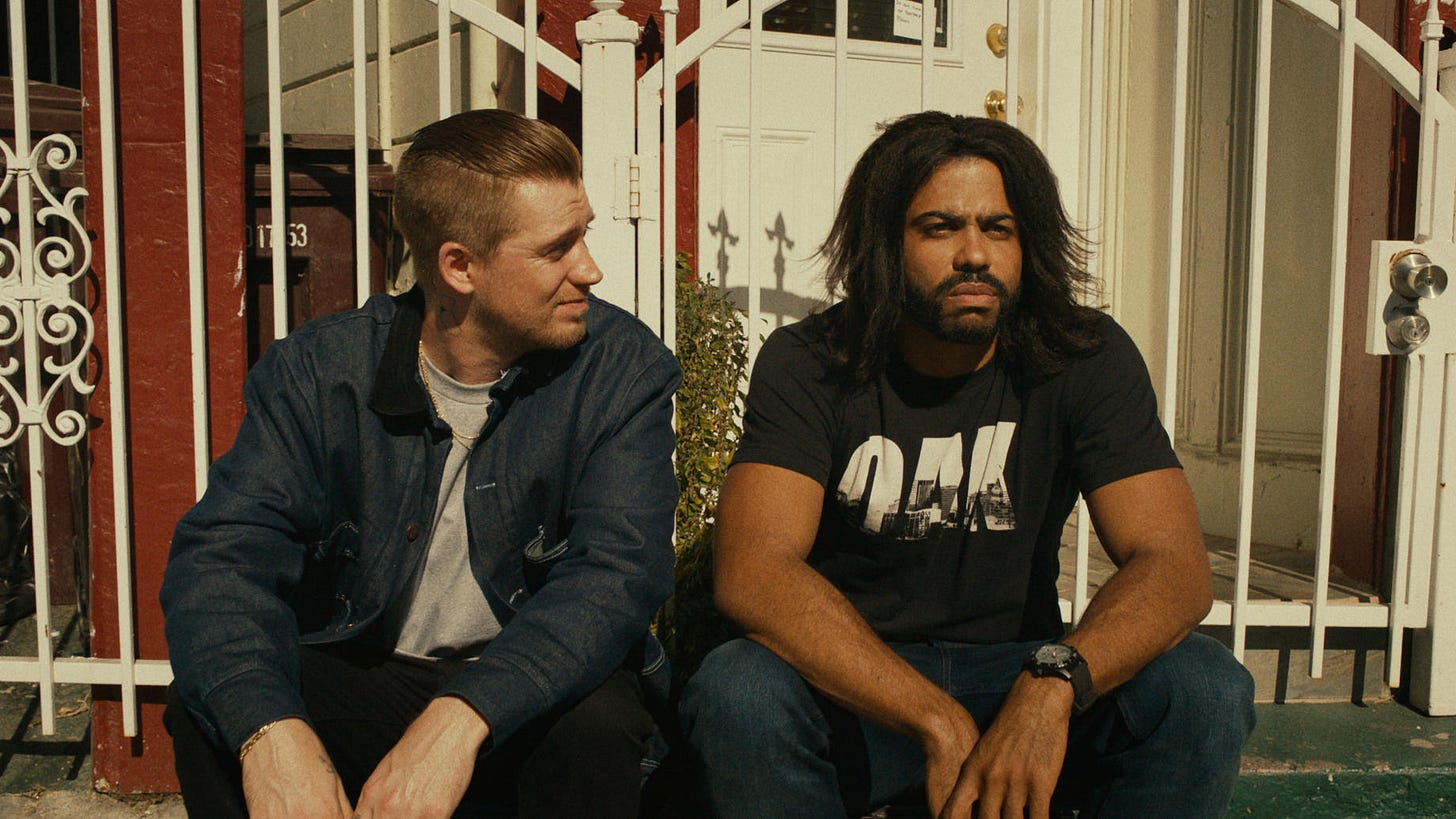 Debuting at Sundance two days before Sorry to Bother You, Blindspotting grapples with similar issues. Tonally, though, the two movies couldn't be further apart. Whereas Sorry to Bother You takes a fantastical approach to examine these issues, Blindspotting grounds itself entirely in our world.
Collin (Daveed Diggs), a convicted felon, has three days remaining on probation. On his way back to his halfway house as he tries to beat curfew, he sees a white cop shoot an unarmed black man in the back. The killing haunts him. Meanwhile, he works at a moving company with his best friend, Miles (Rafael Casal). The film follows them on their many assignments, allowing the story to demonstrate the affects of gentrification. The movie is about Collin navigating his final three days on probation before he's finally a free man again as he wrestles with the killing he witnessed, tries to keep Miles and himself out of trouble, attempts to win back an ex-girlfriend who never visited him in prison, and grapples with the way his hometown is changing.
In that sense, it's a small movie. There aren't any Killmongers or equisapiens. But what the movie illustrates is just how complex and difficult their ordinary lives are — how everyday life for Collin, a black convicted felon, and Miles, a father who struggles to control his rage, can be so complex. To make it even more simple, it's a movie about their friendship. As Nastia Voynovskaya for KQED put it, Blindspotting "examines a complicated friendship set to the backdrop of heightening racial tensions in an increasingly gentrifying Oakland."
What surprised me about Blindspotting was its humor. A movie that is otherwise an atom bomb of tension, it's legitimately funny — watch Miles struggle with the fact that Collin is suddenly drinking green juice that he fears will take Collin down a slippy slope that eventually leads to Whole Foods.
"They actually have great produce," Collin says.
The chemistry between Collin and Miles as lifelong best friends is electric. My initial comparison was Will and Chuckie in Good Will Hunting, which later made sense when I discovered that Diggs and Casal are childhood friends in real life, both grew up in the East Bay, and wrote the script together. Blindspotting is to Oakland what Good Will Hunting is to Boston. They're both so deeply entrenched in their respective cities and grounded by their friendship.
What I appreciated the most out of Blindspotting was how it sprinkled enough breadcrumbs throughout the movie to give everything that happens intentionality. When Collin gets a work assignment in Walnut Creek, he refuses to go because it's not in Alameda County. Leaving the county would be a parole violation. A brief argument about what county Walnut Creek resides in ensues. At another point, Collin and Miles discuss how most OPD officers don't actually live in Oakland, but in places like Cupertino. I won't spoil why those two seemingly inconsequential (in terms of plot) conversations matter. But they do.
Likewise, the movie excels at toying with the audience's perceptions. At first, when we're told Collin is a felon, we're not given any real details as to what crime he committed. It's up to us to make our own assumptions. Later, Miles mentions that Collin only went to prison on a technicality. We immediately assume that Collin doesn't deserve to be a felon. But in one of the best sequences in the film, when Collin happens to run into someone who witnessed the very crime he committed, we're forced to reconsider once again. It's not what we expected, but it's entirely in keeping with both Collin and Miles' characters.
All of this is a long-winded way of saying that Blindspotting is a tremendously well-constructed movie with heart, great performances, tension, and a worthwhile message that won't just resonate with Oakland residents, but anyone sympathetic to so many of the issues plaguing so much of our world, even if they aren't personally affected by them.
2. Fruitvale Station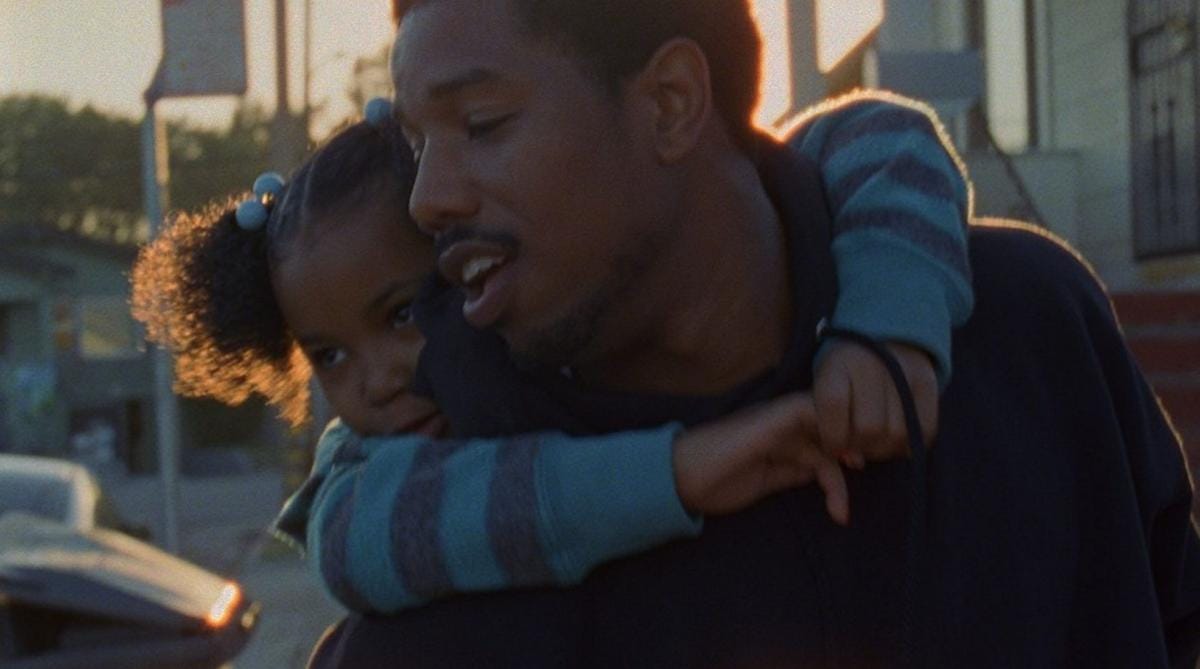 Chance are, if you've ever taken BART and glanced at the map on the wall, you've seen an Oscar Grant decal placed over Fruitvale Station. Fruitvale Station the movie, also written and directed by Coogler and starring Jordan, tells the story of Grant's tragic death at the aforementioned BART stop. In the early hours of January 1, 2009, Grant was shot in the back by BART police officer Johannes Mehserle. He died at the hospital. Mehserle claimed he meant to taser Grant. He was found guilty of involuntary manslaughter. He served 11 months.
Grant was 22.
The entire film takes place on the final day of Grant's life. What Coogler does is offer a glimpse at who Grant was: a father, partner, and son. It's excruciating to watch the day unfold knowing full well that it's the last day he'll get to see, that it's the last day his daughter, girlfriend, and mother will get to share with him. It's like standing on the tracks of a train waiting for the train to hit you and being unable to step aside. Knowing the ending doesn't dull the impact when it finally arrives. It hits hard. It's utterly destructive.
As Grant, Jordan delivers the best performance of his already loaded filmography. Coogler's direction is fantastic; he smartly includes real footage from the tragedy, not as a way to exploit the tragedy, but as an effective reminder that what we're watching actually happened.
It's one of the most powerful movies I've ever seen — right up there with Just Mercy. I guess Michael B. Jordan has a knack for it.
I'd be remiss if I didn't mention Melonie Diaz, who holds her own with Jordan as Grant's girlfriend, Sophina Mesa, and Octavia Spencer as Grant's mother, Wanda Johnson. Watching them react to Grant's death is almost unbearable. It's why I haven't been able to return to it since my initial viewing years ago.
1. Moneyball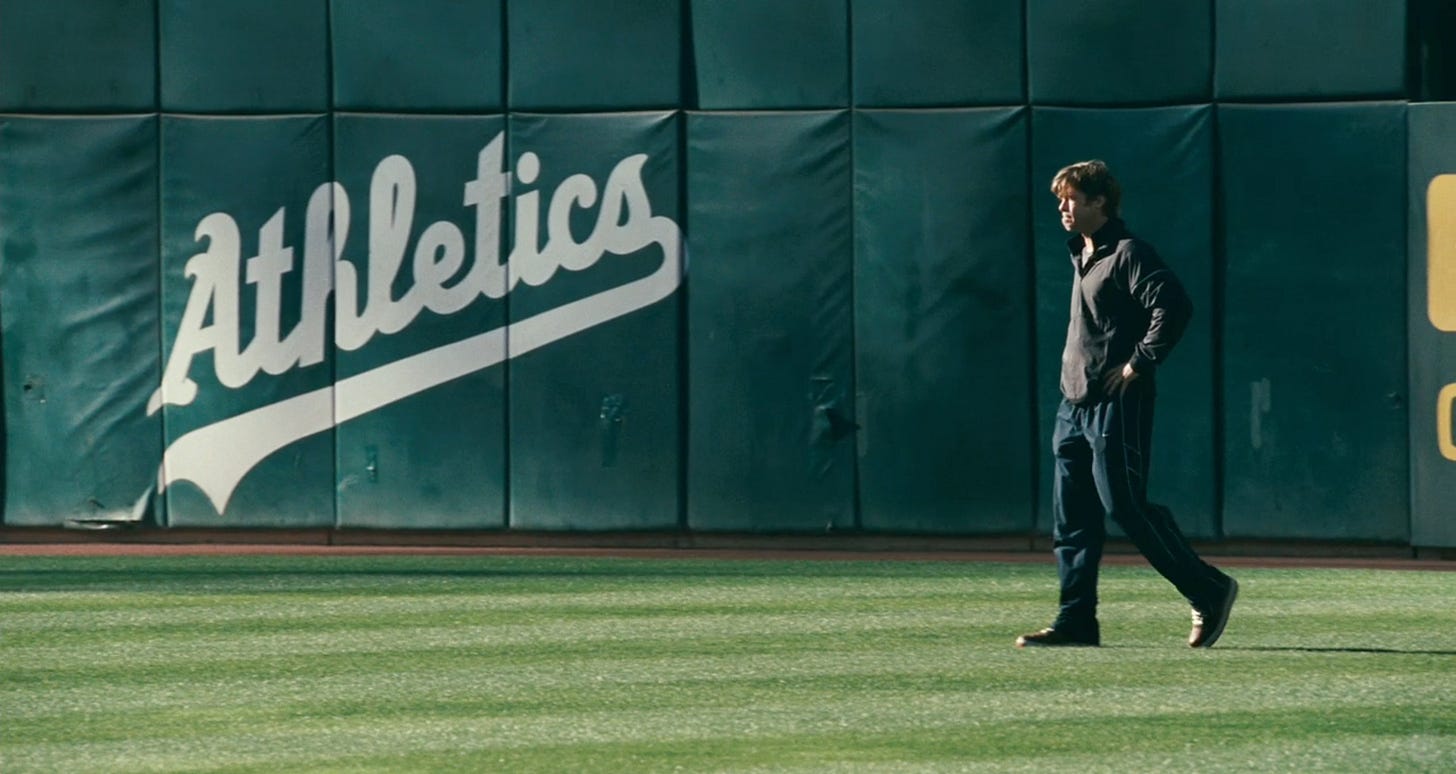 "What a dump."
If you've been to the Coliseum, you know exactly what Oakland A's general manager Billy Beane, standing in the bowels of the stadium, is talking about. He's weighing an offer to become the highest-paid GM in the history of professional sports for the Boston Red Sox against remaining in Oakland to lead the underfinanced A's, whose owner refuses to provide him with the resources he needs to compete with the Red Sox and, say, a functional stadium with vending machines the players don't have to pay to use or a working plumbing system. When I covered the Chiefs-Raiders game last September, someone asked Andy Reid to talk about his final game at the Coliseum. He responded, "I'm not gonna tell you I'm gonna miss it. … This year we didn't have to dodge sewage in the locker room."
It is a dump. But that's part of its charm. When Brad Pitt, as Beane, calls it a dump, he says it fondly. The seats are cheap. The drinks are fairly priced. And it's crucially connected to BART. As The New York Times once wrote, "the Coliseum is baseball's last dive bar."
Economic inequality is at the heart of Moneyball. As the film's opening sequence makes clear, the A's do not have nearly as much money to spend on baseball players as teams like the Yankees do, which is problematic considering baseball games are typically won by good baseball players and good baseball players usually cost lots of money. The A's lost to the Yankees in the 2001 ALDS. Immediately after, they lost three key players in free agency — one to the Yankees.
And so, the film begins.
"The problem we're trying to solve is that there are rich teams and there are poor teams, then there's fifty feet of crap, and then there's us," Beane tells his team of scouts at the beginning of the offseason. "It's an unfair game. And now we've been gutted. We're like organ donors for the rich. Boston's taken our kidneys. Yankees have taken our heart. And you guys are sitting around talking the same old 'good body' nonsense like we're selling jeans. Like we're looking for Fabio. We've got to think differently. We are the last dog at the bowl. You see what happens to the runt of the litter? He dies."
Moneyball, based on the book by Michael Lewis, is about how the A's used sabermetrics to assemble a cheap team that could compete with the rich teams, and as a result, changed the sport. It's very much a baseball movie. But it's also a movie about changing the way people think, looking past preconceived biases, a father trying to keep his job so that he won't be forced to move away from his daughter, and at the center of it, a man trying to change the sport of baseball forever by winning the final game of the season deploying a method that nobody had ever used before.
"If we pull this off, we change the game. We change the game for good," he says.
He doesn't win the last game of the season, but he otherwise succeeds in his mission. As the film says at the end, Beane is still trying to win the last game of the season. Nearly a decade later, it remains true. Beane, of course, turned down that offer from the Red Sox, who would go on to win a World Series two years later. Beane hasn't yet brought a championship to Oakland.
The first time I watched the movie — in 2011, only a month or so after I moved to the East Bay from Seattle — I loved it. Pitt gives one of the best performances of his career; it remains a disaster that he didn't win Best Actor. Jonah Hill is the perfect sidekick. If I were ranking actor duos, they'd be near the top of the list. The film is boosted by tremendous supporting performances from Philip Seymour Hoffman as manager Art Howe, Chris Pratt as first baseman Scott Hatteberg, and Kerris Dorsey as Beane's daughter, Casey. It's genuinely funny, inspiring, and heartwarming.
The climax of the movie, when the A's set a record by winning 20 straight games with a walk-off home run (a moment I remember watching on SportsCenter as a kid), delivers the moment of catharsis that every sports movie needs. The execution by director Bennett Miller is flawless, from the decision to splice in real footage, to emphasizing the sound of the bat making contact with the ball, to the music. It's perfect — made even more perfect by Beane's dumb superstitions, the reason why he's in the weight room below the stadium instead of a place where he can actually see the game, even though he's the one championing the idea of using data over instincts.
Those qualities, regardless if you're from Oakland or Seattle, remain true. But as I identified more and more with the East Bay, my love for the film has grown. I'm still a Mariners fan. That won't ever change. I won't ever root for the A's — unless they're playing the Yankees, of course. Fuck the Yankees. But when Beane says he really wanted to win in Oakland, I now identify with him in a way I didn't before. And when the final scene comes, and Beane is driving on what I presume is supposed to be 880 as his daughter sings that "Just Enjoy The Show" song and the shaky cam zooms in on the cranes in the backdrop outside the driver-seat window, it gets me.
A drive I'll never forget.